Enroll your child today to receive a free book each month!
PPEC serves as an affiliate for Van Wert County children to receive a free book each month from the Ohio Governor's Imagination Library/Dolly Parton Imagination Library. Children from birth to age five can enroll to receive books and jump-start their development, imagination, and love for reading. After enrollment, children will begin receiving a new book each month, at no cost to their family, until they reach the age of five.
"I am thrilled that Paulding Putnam Electric Cooperative will be administering the Imagination Library in Van Wert County," said Ohio First Lady Fran DeWine in a news conference on Sept. 10, 2020. "We've continued to expand the Imagination Library statewide because we know the program works. Young children are excited to receive the book each month in the mail, which is addressed to them. And just having these books in the home promotes a love of learning and family bonding that we know adds up to preparing children for kindergarten. I encourage all families in Van Wert County to sign up their children for these free books."
George Carter, CEO of Paulding-based Paulding Putnam Electric Cooperative, echoed DeWine's sentiments. "Paulding Putnam Electric Cooperative has been ingrained in the northwest Ohio community since 1935.  We're happy to expand our service to the community by sponsoring the governor's Van Wert County program."
Research has shown that book ownership can be a predictor of future academic success. Studies have found that children with just 25 books in their home were more likely to complete an additional two years of education. Inspired by Ohio First Lady Fran DeWine's passion for early childhood literacy, the Ohio Governor's Imagination Library is a partnership with Dolly Parton's Imagination Library to ensure that children enter the classroom ready to succeed.
The Ohio Governor's Imagination Library is working to ensure that children in all 88 Ohio counties can enroll in Ohio Governor's Imagination Library in 2020, by providing a dollar-for-dollar funding match with each county that opens OGIL to its residents. The Ohio General Assembly committed $5 million to OGIL in the state fiscal year 2020-2021 budget.
PPEC's program is for children of Van Wert County residents only. However, other counties have affiliates as well. To sign up or see if your county offers the program, visit OhioImaginationLibrary.org.
Click here to enroll your child now!
MORE ABOUT DOLLY PARTON'S IMAGINATION LIBRARY
Dolly Parton's Imagination Library is a book gifting program that gifts free books to children from birth to age five in participating communities worldwide.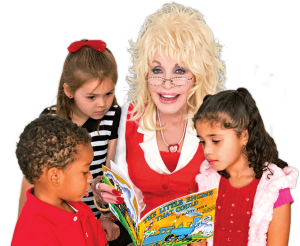 Inspired by her father's inability to read and write Dolly started her Imagination Library in 1995 for the children within her home county. Today, her program spans five countries and gifts over 1 million free books each month to children around the world.
"When I was growing up in the hills of East Tennessee, I knew my dreams would come true. I know there are children in your community with their own dreams. They dream of becoming a doctor or an inventor or a minister. Who knows, maybe there is a little girl whose dream is to be a writer and singer.
The seeds of these dreams are often found in books and the seeds you help plant in your community can grow across the world."
Learn more about the Dolly Parton Imagination Library at ImaginationLibrary.com.