Owning an electric vehicle (EV) is not just a personal choice — it's one of many steps toward a cleaner and more sustainable future. As an EV owner, informing your electric provider about your vehicle is crucial because it allows us to better manage and optimize the electricity grid. By knowing the number of EVs in their service area, co-ops can anticipate the increased demand for electricity and plan accordingly to ensure a reliable and efficient power supply.
If you own or are considering getting an EV, please complete the form below. This will allow us to keep you updated with new rebates, electric rates, and more.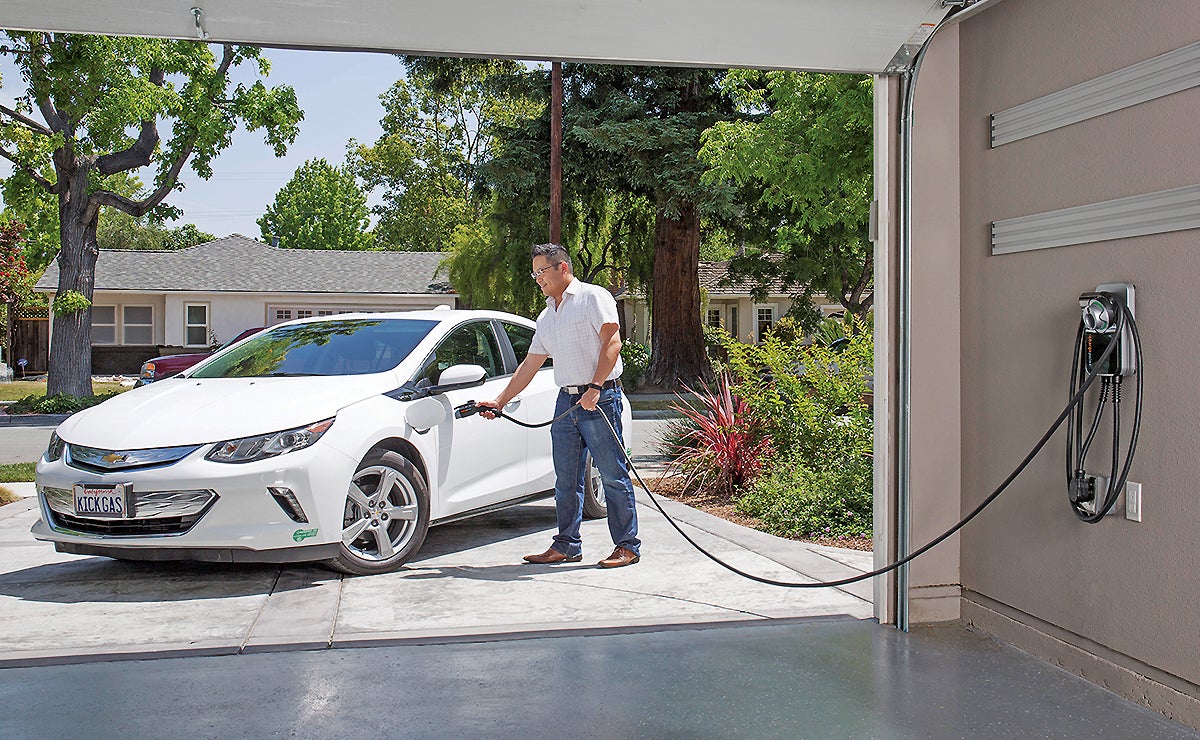 Charging is a crucial concern among new owners of electric vehicles, whether a plug-in hybrid or full electric vehicle (EV). Fear of inconvenience is one of the biggest barriers to widespread adoption of electric vehicles. You might be concerned that there aren't enough public charging stations in the area — and even if there are public charging stations nearby, do you really want to rely on them any time you need to refuel?
An EV charging station at home can solve this challenge of inconvenience. But are EV charging systems at home safe? Absolutely, as long as they're installed correctly.
The first thing EV owners should consider is how they will charge their vehicles. A licensed electrician can evaluate your home's EV charging situation, as well as:
The vehicle's charging capabilities and requirements, which vary depending on the make, model, and type.
The potential location of the panel and vehicle, including the distance from the panel to the garage, the degree of difficulty, and whether the garage is attached or detached.

We need to know if you own an EV, or plan to own one in the future. We are asking you to take the quick survey below to help us help you by planning for the future growth of our system.
The capacity and overall condition of your home electrical system to identify any concerns or additional work. 
There are two common types of home charging options:
Level 1 charging is a straightforward plug-in of the EV into any standard 120-volt electrical outlet. This requires no electrical modification, and it normally takes about 14 to 20 hours to fully charge the EV. Unfortunately, this degree of charging may not always match the driver's daily travel needs.
Level 2 charging units are sold separately from the vehicle. These units must be installed by a licensed electrician because they plug into a 240-volt outlet and charge much more quickly, typically in four to eight hours. You may need to upgrade your service, so it's best to contact us before the installation.
What your co-op needs to know
PPEC is mainly concerned with the additional electric demand. Your co-op must consider how much additional power we may need, and when you are charging (on-peak versus off-peak times, which affects electricity prices). One of the most important aspects is when you charge. 
If you charge your EV during peak times, that could be an exponential cost to the co-op, which would ultimately be passed on to you, the member. We are strategically planning for the future and want to avoid additional costs like these as more members purchase electric vehicles and begin to install charging stations.
We need YOUR help: If you own an EV or plan to own one in the future, please complete the form below. We can also let you know if we offer any rebates, special rates, or incentives for EV owners in the future.