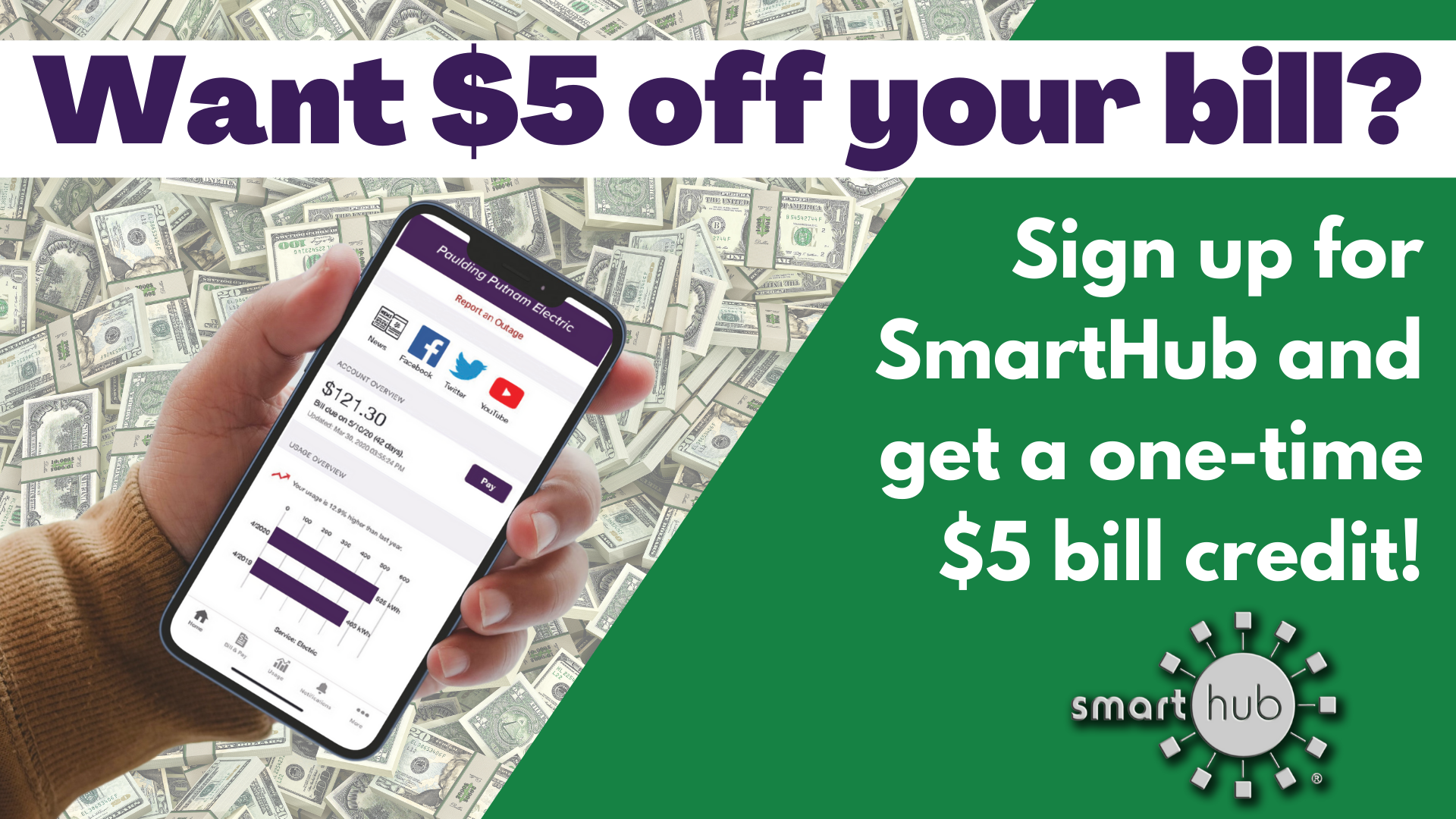 SmartHub is Paulding Putnam Electric Co-op's free online bill payment system which allows you to report a power outage, receive outage and peak alert notifications, and monitor your energy usage. If you are new to paying your bill online, you will need to create a SmartHub account. However, it's super easy, and if you run into any issues, our friendly staff will gladly assist you.
*Effective January 2022, new subscribers to Paulding Putnam Electric's SmartHub E-bill will receive a one-time $5 credit on their bill. While you're in your SmartHub account, we highly encourage members to sign up for Auto-Pay using a bank account or credit card AND enroll in paperless billing to save printing and mailing costs (not to mention trees!).
Have questions or need help? Call us at 800-686-2357 or send us a message here. Please make sure to contact our office if you do sign up and don't see the $5 credit on your next electric bill.
Our goal is to provide you with account access on demand for your mobile devices, tablets, & computers to save you time in your busy life. SmartHub:
Provides 24-hour access to account(s)
Sends e-mail notifications when a new electric bill is generated and allows you to pay electronically using Visa, MasterCard or Discover card or an electronic check transaction. 
Allows members to enroll in Auto-Pay and never worry about missing a due date again!
Provides current and historical billing information and payment history.
Report an outage with the click of a button to avoid long call waiting times.
Special Alerts including Power Outages and Peak Alerts (you can enroll in text notifications, meaning we'll send you a text!). 

CLICK HERE

to learn how to set up outage notifications. 

Vote for board elections and code changes online in minutes rather than by mail ballot.
Monitor energy use 24/7/365, and set up usage threshold alerts so you'll be notified if your usage jumps. This is a great way to find out what habits are costing you and where your energy dollars are going.
Outlines daily, monthly, and annual energy usage in graphs.
Get notified about capital credits payments, planned outages, special events, and more.
Includes a free app for your smartphone or tablet. Download it by searching for "SmartHub" on either the Apple Store or Android Market. Once the app is open, type in "Paulding Putnam Electric Cooperative" as the provider. (The login information is the same for both the web and mobile app.)
Use email? SmartHub allows you to enroll in Paperless Billing (and save a tree!).
Have multiple accounts? Don't worry! SmartHub makes it easy.
Multiple accounts can pay with a single payment.
Provides an easy way to report a power outage. This feature works especially well for members with multiple accounts.
There are two ways to sign up:
By clicking here to access SmartHub through a web browser
By downloading the free SmartHub mobile app from the Apple App Store or the Google Play Store.
How to Create an Account on SmartHub and Pay Bills
Set Up Outage Notifications and Alerts
How to Check Your Energy Usage
Below are some tutorials to assist you in using SmartHub from your computer and mobile devices:
Using SmartHub from your computer
| | | |
| --- | --- | --- |
| Sign Up For SmartHub | PDF |   |
| Pay Your Bill | PDF | Video |
| View Billing/Payment History | PDF |   |
| Set Up/Manage Payment Methods | PDF | Video |
| Manage Alerts/Notifications | PDF | Video |
| Set Up/Manage Automatic Payments | PDF | Video |
Using SmartHub from your Android device
Using SmartHub from your iOS device