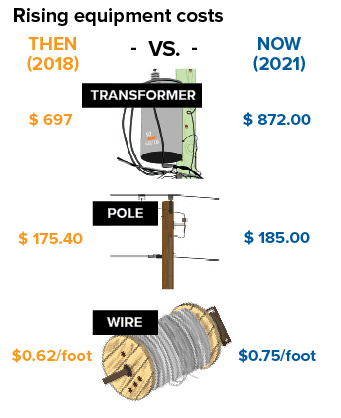 For the first time since 2018, PPEC will be increasing rates. Effective on January 1, 2022, the monthly residential service charge will increase by $2.05 to a total of $35. The co-op's board approved this decision in late November. 
As the cost of goods (transformers, poles, wire, etc.) required to bring you reliable energy increases, PPEC must examine rates accordingly. Before implementing any increase, your co-op's staff and board review cost-of-service studies and consider the effects on the membership. Our goal is to hold costs as low as possible while ensuring access to safe, affordable, and reliable power.
This is the first rate change since March of 2018, and represents a 1.2% average increase for each residential member. This change is reflected in the "distribution" section (back page) of your monthly billing statement. There is no change to the rate you pay per kilowatt-hour. 
"It's always a difficult decision to increase rates; however, due to increasing costs to provide member service, it was necessary to increase our monthly service charge," said PPEC CEO and President George Carter. "This is our first rate increase in four years, and costs have significantly increased over that time – especially due to the pandemic."
In 2018, a transformer cost $697. Today, one costs $872. Several examples of rising prices are included in the graphic on this page.
"Your cooperative works hard to provide a high level of service while keeping your cost fair and reasonable," Carter said. "I think that one rate increase in 4 years is fair, and the average daily cost of electricity is still less than $6 per day for our members." 


Residential members will see the new rate on the bill you receive in January. To see a breakdown of PPEC's rates, visit our RATES & BILLING page. 
The service charge is a set monthly fee charged to all members to help recover costs of the equipment needed to deliver power to your meter.

The service charge (included under the "Distribution Charges" section of your bill on the back side)covers the cooperative's fixed costs such as line equipment, property taxes, and other items needed to provide electricity on demand. This also includes items like line maintenance, tree trimming, and administrative costs. The co-op incurs these costs regardless of an individual's energy use.

These investments are necessary to provide the high-quality electric service our members expect and deserve. Rather than asking members to pay the full upfront cost of what it takes to deliver power to the home, the service charge helps manage these costs over time.  Regardless of how much energy you use, PPEC still has to cover the cost of ensuring electricity is there if you want it.
Financial resources and community assistance programs are available for those struggling with payments. Visit our Bill Payment Assistance page for a list of resources or give our office a call. We also offer payment arrangements, but members must contact us early in the process.