"Fun" means different things to different people. For New Haven resident and PPEC member Troy Ganser, it's his whole life. 
As the owner of TAG Art Company in Fort Wayne, Troy specializes in art, art services, classes, entertainment, parties, and much more – service options range from aerialists to superheroes… even dinosaurs! His company (and fantastical characters) have served all types of events, including conferences, weddings, fundraisers, and children's birthday parties.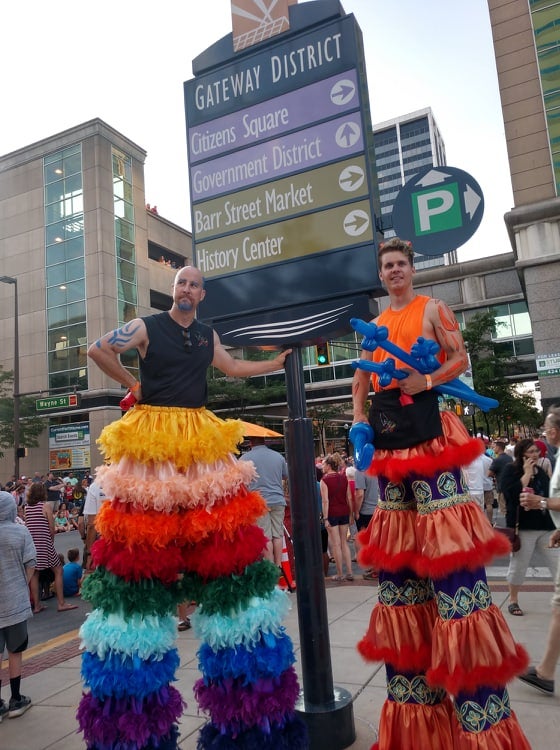 "At TAG Art Company, we think everyone could use a little bit of wonder in their lives," says 48-year-old Troy. "We create immersive entertainment experiences that invite you to journey into your sense of awe."

Troy is an awe-inspiring character himself, holding a world record of the "largest single panel comic strip" (not recognized by the Guinness Book of World Records). His wife April, four children, and 34 pets at home support his ambitions and desire to bring fun to everyone.  

"One thing most people don't know about me is that I'm the first-born son of a first-born son of a first-born son -- and so is my first-born son!" Troy says with a smile. "Life is too short not to appreciate things like that!"

Ganser's passion for fun started as a hobby until he realized he needed to transition to a formal business in order to "do it well and do it big enough." TAG Art officially launched on January 1, 2000.

"I think I'm most alive and happiest when I'm working," Troy says. "I love the work we do and bringing fun and wonder… everything else before and after is drudgery. I'm truly living the dream!"

TAG Art strives to be consistent with regional rates and not follow what Troy calls "ego pricing." With a variety of services, pricing options range from $50 to thousands (all dependent on the service, duration of event, travel distance, etc.). 

"We also strive to be sensitive to budgets and hope to find the 'win-win' for every respectable event," Ganser says. "With 400+ events every year, we feel our work is affordable. The proof is in the pudding."

Want to see TAG Art's services up close and personal? Don't forget to attend PPEC's Member Appreciation Movie Night at the Van Del Drive-In on Saturday, July 24, 2021. See page 22C for details. You won't want to miss out on the fun! 

TAG Art Company is located at 7629 Moeller Road in Fort Wayne. Those wanting a quote or more information about a party, event, or rental can contact Troy at 260-456-6999 or email troyg@tagartcompany.com. To learn more about TAG Art Company, visit www.tagartcompany.com or check out their Facebook page @tagartco.