Watch the Annual Meeting Premiere on Facebook: 
Watch the Annual Meeting Premiere on YouTube:
---

News Release to the Media (March 22, 2021)
Paulding Putnam Electric Cooperative's (PPEC) 85th Annual Meeting of Members was held virtually this year due to COVID-19, premiering on Facebook and YouTube at 10 a.m. on Saturday, March 20, 2021. More than 1,000 viewers tuned in to watch the meeting over the weekend to hear co-op updates, a recap of 2020, and election results.
More than 2,100 members (19%) voted in PPEC's 2021 elections – the largest number of votes ever cast in the co-op's election history. All nine proposed changes to the co-op's Code of Regulations were passed with 90% of members voting in favor of the changes that would help the co-op operate in a more virtual environment for the future. A complete explanation of all nine passed changes can be found here: https://ppec.coop/sites/ppec/files/2021_elections/PPEC-proposed-Code-Changes-Explanations-FULL-CURRENT-AND-FINAL-LANGUAGE-Jan.-2021.pdf
Board election results were announced, with each board member elected to serve a three-year term:
Incumbent Tim Derck of Antwerp was re-elected to District 3 (represents Carryall, Crane, Benton, and Harrison Townships in Paulding County, Ohio). No candidates submitted petitions to run against Derck, so Derck was elected by affirmation.
Incumbent Ken Niese of Ottawa was re-elected to District 7 (represents Monroe, Palmer, Liberty, and Greensburg Townships in Putnam County, Ohio).
New trustee Adam Schnipke of Fort Jennings was elected to District 8 (represents Perry, Jackson, Monterey, and Jennings Townships in Putnam County, Ohio; Marion Township in Allen County, Ohio). District 8 had an open seat with three candidates running for election after Doug Fortman's decision not to run for re-election.
The election was run by a third-party company named Survey and Ballot System. The certified election results can be found here.
Board Chairman Dr. John Saxton, Secretary-Treasurer Dr. Ron Black, and President and CEO George Carter reflected on 2020's challenges and successes, while looking ahead to the future.
"This year's theme, 'Hope Isn't Canceled,' is important and fitting," said Saxton. "It says a lot about where who we are as a cooperative family. This has been a very challenging year for your co-op, but with our outstanding staff and dedicated board, we were able to achieve many of our strategic goals."
As highlighted during the meeting, this included:
No rate increase in 2020 or in 2021.
Net margins for 2020 were $5.6 million, exceeding budget expectations despite a decrease in sales due to the pandemic. More than $6 million was invested in electric plant facilities.
The largest capital credits refund in co-op history: Nearly $2.2 million was returned to members last December via capital credits – this is proof of each member's ownership in the co-op.
PPEC replaced 528 poles, rebuilt 21 miles of line, and repaired the Fort Brown and Continental substations. Cecil Substation was rebuilt completely (a $2 million project).
Total system outage time was reduced to 59 minutes per member in 2020 – well below the goal of 100 minutes.
The result? Improved reliability, increased capacity for future growth, and shorter outage durations for the future.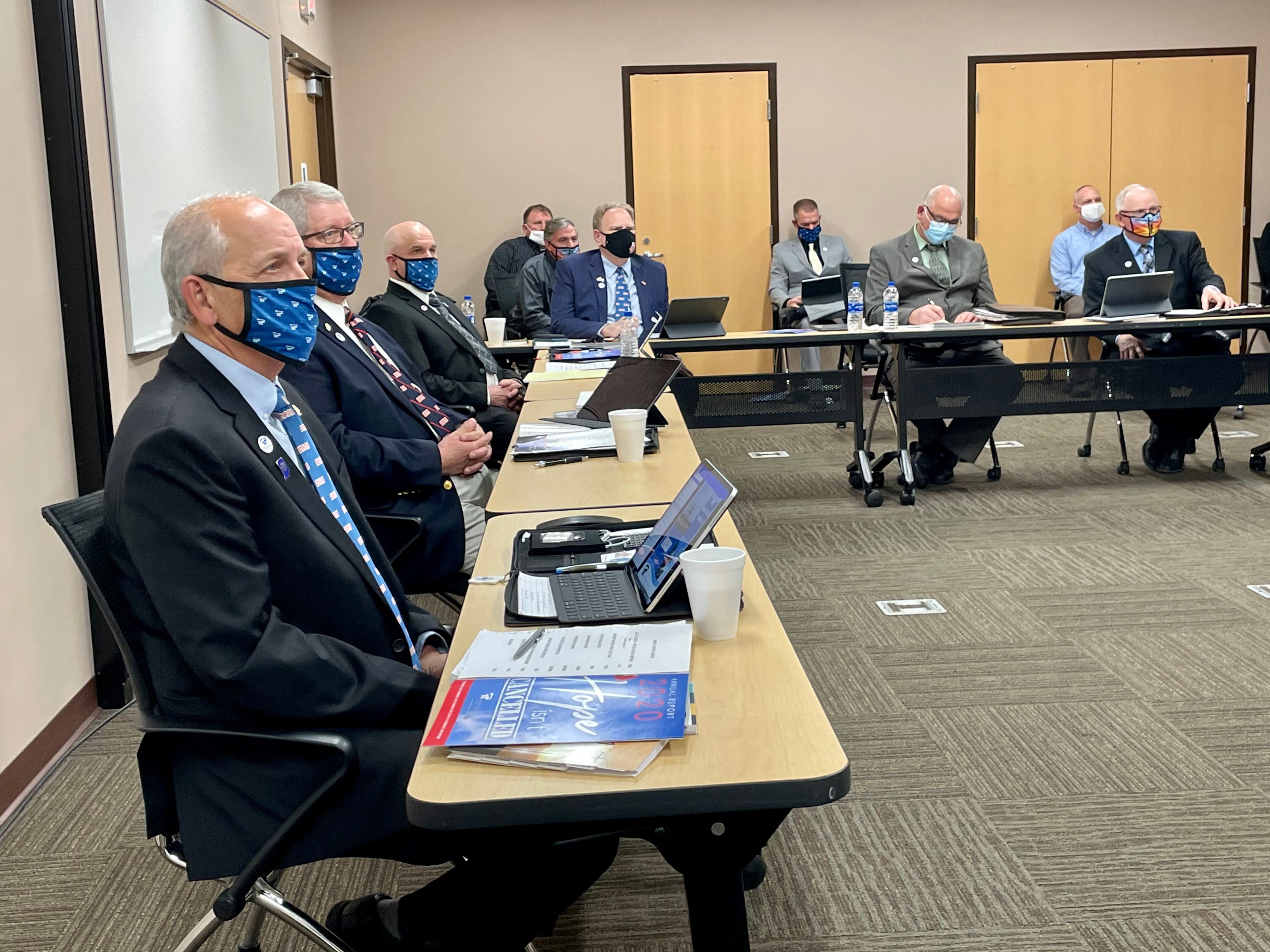 Carter began his remarks by painting an image of the co-op's challenging history, born out of the Great Depression and surviving World War II, countless ice storms, windstorms, tornadoes, and more during its 85-year history.
"Overcoming obstacles and surviving them is the co-op way, and it's in large part due to the dedication and resilience of our employees," Carter said. "I want to personally thank each employee that works for PPEC. I know it was a difficult and fearful year, and I greatly appreciate the efforts each one of you put forth."
Carter recapped the years of experience the co-op has lost due to retirements, including Member Service Manager Renee Boss, Lineman Dennis Clark, and Operations Manager Ted Slusser.
"I also want to thank Mr. Doug Fortman as he leaves the board. It's a challenge to replace all this experience and wisdom at the co-op," Carter said.
Looking at rates, Carter explained that wholesale power prices from PPEC's Cardinal Generating Station "have remained mostly flat" but are beginning to increase due to transmission cost increases.
"Moving the power from our generating plants to our local substations is done over the transmission system," Carter explained. "The transmission system is like a big toll road – we must pay to use it. These costs have increased and are projected to continue increasing in coming years. They will impact future rates."
Board Secretary-Treasurer Dr. Ron Black reported that the cooperative "performed well financially" in 2020, with PPEC's auditing firm of Bashore, Reineck, Stoller, and Waterman issuing an unqualified, or clean audit opinion. This means the financial records accurately reflect the business of the co-op.
Saxton ended the meeting asking members to mark their calendars for Saturday, July 24, 2021, for PPEC's new COVID-friendly Member Appreciation Day. The event will be a family day of fun with entertainment and prizes for kids and adults alike.
A $100 grand prize and fifteen $25 bill credits were drawn from those members who watched the meeting and left a comment. Winners of the credits were as follows:
GRAND PRIZE $100 WINNER:
Danielle & Michael Wiesehan (Antwerp)
$25 BILL CREDIT WINNERS:
Elizabeth Gibson (Convoy)

Dale & Helen Calvelage (Fort Jennings)

Jay Wischmeyer (Columbus Grove)
Jacob & Stephanie Litwiller (Cloverdale)
Nichole & Troy Warnecke (Columbus Grove)
Kevin Kettels (Continental)
James & Laura Boesch (Cecil)
Mackinzy & Jono Peterson (Middle Point)
Crayton McCleery (New Haven, IN)
Jeff Mumma (Payne)
Karen & Dennis Stachowiak (Miller City)
Steve & Michelle Kennedy (New Haven)
Chad Crosby (Payne)
Mary & Allan Gerding (Ottawa)
Ruth Foppe (Ottawa)
---
Full transparency with our members
View 2020's Annual Report below to see a recap of last year, including financial reports, billboard campaigns, retirees, and more.
CLICK HERE to see a copy of the official 2020 audit results and our financial records.