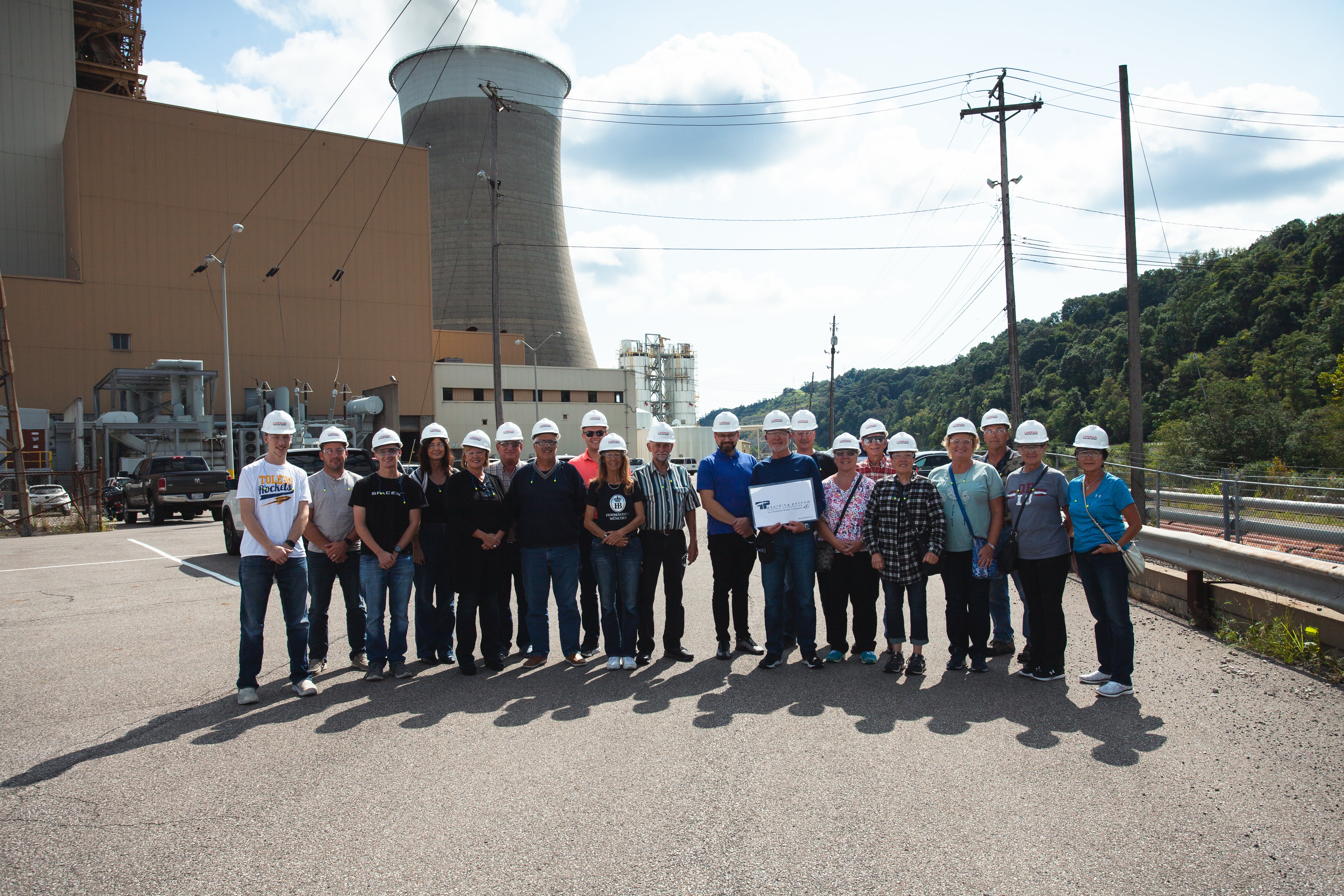 This fall, 19 PPEC members loaded on a bus with several local co-ops and employees to Brilliant, Ohio, for an up-close tour of Cardinal Generating Station – the coal-fired power plant owned by Ohio's Electric Cooperatives. This plant is our baseload source for power generation, meaning it supplies Ohio's 25 electric cooperatives with electricity 24 hours a day, 7 days a week.
Members may have expected to see dirty, gray, ashy clouds billowing from the plant. However, they were surprised to see the cloud is actually pure white and nearly all water vapor. It's a clearly visible indicator of the 1.2 billion dollar investments that Ohio co-ops have made in emissions control equipment, making Cardinal Power Plant one of the cleanest power plants of its kind in the world.
The environmental affairs department at OEC constantly monitors and reports data to ensure that the plant complies with or even exceeds environmental standards and regulations.
---
Here are just a few ways OEC has invested $1.2 billion to make Cardinal one of the cleanest coal plants in the world:
Electrostatic precipitators remove 99% of the fly ash particles from burning coal.
New equipment that reduces Cardinal's emissions by 90% (works similar to how an automobile's catalytic converter removes nitrogen oxide from engine exhaust.)
Installing scrubbers, or a system tank containing a mix of limestone and water, to remove over 98% of sulfur dioxide (what contributes to acid rain) from Cardinal's emissions. Gypsum is produced, which is recycled and sold, helping to keep power affordable for members.
---
Cardinal Power Plant and WPCA cost
The biggest expense PPEC has is power cost, or the cost of electricity generated by our plants (like Cardinal) and delivered to your home. As commodity prices increase, the cost to generate electricity increases; this is where the wholesale power cost adjustment (WPCA) on your bill comes into play. This WPCA collects the increased cost PPEC must pay from our wholesale power supplier, Buckeye Power, who supplies all our electricity.
Overall, the Buckeye price of power has increased nearly 8% this year. The leading driver is transmission cost, which has increased almost 20% this year alone.
PPEC does our best to keep rates as steady and affordable as possible for members; our management team, CEO, and Board of Trustees works hard to keep controllable costs down-however, costs like the WPCA are out of our hands and must be recouped for the cooperative (a not-for-profit-entity) to stay financially stable.
To learn more about Cardinal, visit https://www.ohiocoopliving.com/hidden-value