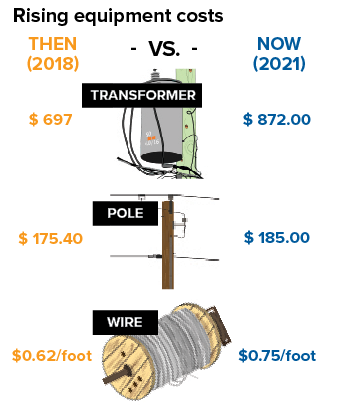 For the first time since 2018, PPEC will be increasing rates. Effective on January 1, 2022, the monthly residential service charge will increase by $2.05 to a total of $35. The co-op's board approved this decision in late November. 
As the cost of goods (transformers, poles, wire, etc.) required to bring you reliable energy increases, PPEC must examine rates accordingly. Before implementing any increase, your co-op's staff and board review cost-of-service studies and consider the effects on the membership. Our goal is to hold costs as low as possible while ensuring access to safe, affordable, and reliable power.
This is the first rate change since March of 2018, and represents a 1.2% average increase for each residential member. This change is reflected in the "distribution" section (back page) of your monthly billing statement. There is no change to the rate you pay per kilowatt-hour. 
"It's always a difficult decision to increase rates; however, due to increasing costs to provide member service, it was necessary to increase our monthly service charge," said PPEC CEO and President George Carter. "This is our first rate increase in four years, and costs have significantly increased over that time – especially due to the pandemic."
Learn more, find specific price increases, and learn what options are available to members to help keep costs down.