What's one thing that everyone dreads looking at right now?
The price tag.
Inflation, as measured by the U.S. Bureau of Labor Statistics Consumer Price Index Summary, jumped 9.1% in June compared to June of 2021. This was the largest annual increase since Nov. 1981.
While everyday household items like fresh chicken (up 15.5% from June 2021 to June 2022), coffee (up 15.8%), butter (up 21.3%), and even eggs (up 33.1%) have all jumped, the biggest pain has been at the pump (more to come on that below).
Your cooperative is facing our own share of difficulties amid this economy, rising generation costs, and the current state of the electric utility industry. Everyone knows costs are increasing… but what's the real impact?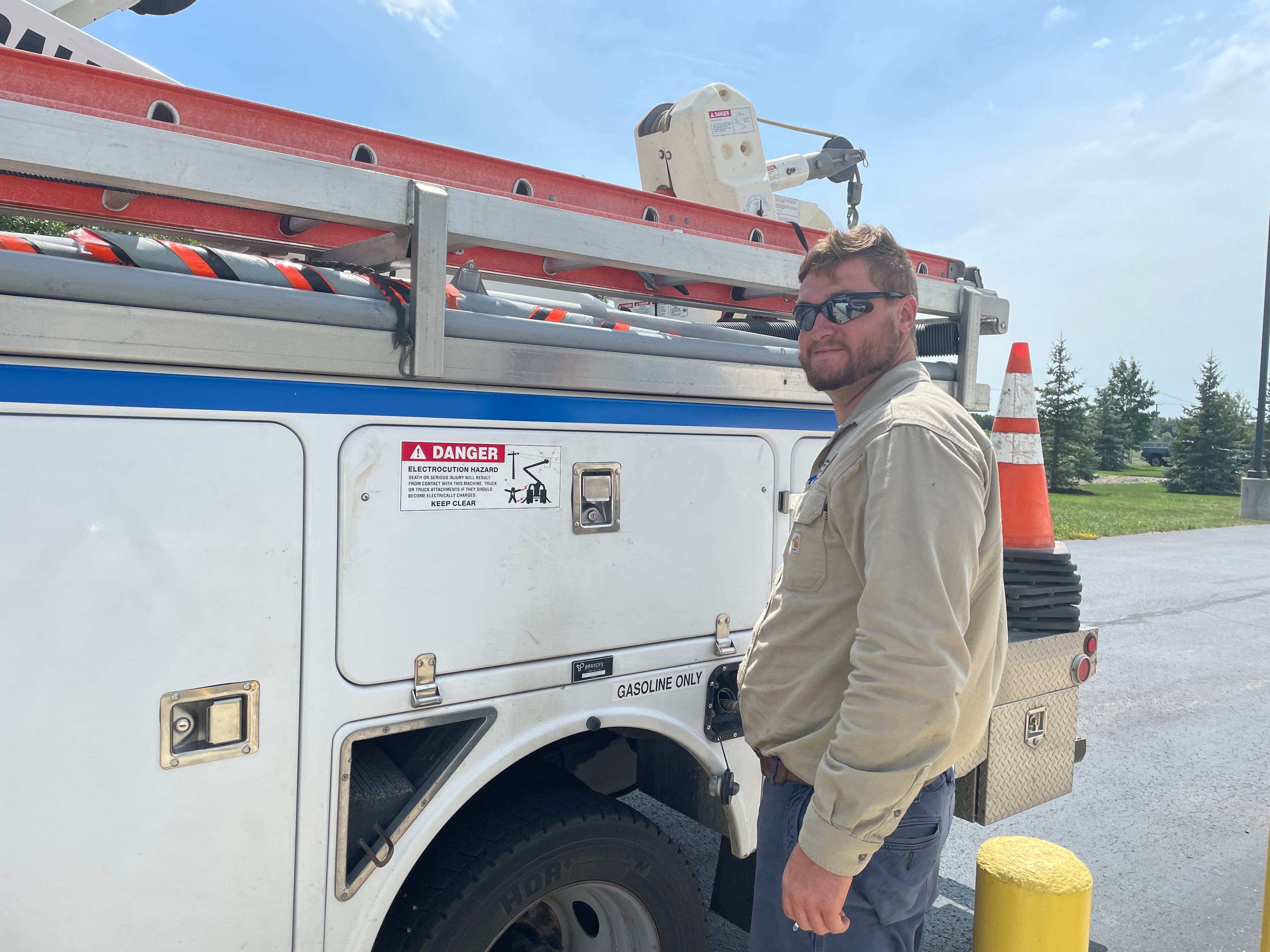 Fuel
According to the AAA Gas Prices calculator, in Ohio, the average gas price at the time of publication (July 2022) is $4.08; the average diesel price is $5.61. (In Indiana, the average gas price is $4.29; the average diesel price is $5.65.) One year ago, the Ohio gasoline average was $3.039; the diesel average was $3.31. (One year ago in Indiana, the average gasoline price was $3.11; the diesel average was $3.33.)
For Ohio, that means gasoline jumped 34.25%; diesel surged 69.48%. (For Indiana, that means gasoline increased 37.94%; diesel spiked 69.66%.)
For Paulding Putnam Electric Cooperative, the impact is magnified. In 2021, we spent $133,000 on fuel and drove 327,000 miles with our trucks, vehicles, and fleet. Through June 2022, we spent $85,000 on fuel and have driven 113,000 miles so far (note we are only halfway through the year). Completing new services, fixing poles, and restoring outages – all needed to grow and maintain our system – mean we have to transport our equipment and staff across our service territory, which spans both NW Ohio and NE Indiana.
Material
Ready for sticker shock? See the included graphic to see the percent increase of various electrical material and parts of a pole assembly from 2021 to 2022. The lowest increase on this list is 7% (the cost of a pole), but conduits have spiked 313% since last year.
Back in 2020, a 50 KVA padmount transformer cost PPEC an average of $1,618. This June 2022, that same transformer costs us $2,294. What about buying refurbished? Last we checked, that same transformer costs $5,065 refurbished, mainly because of supply shortages – and the wait list for a transformer is out until fall 2023.
These cost increases aren't going away, and your co-op is having to plan (and budget ahead) to stay ahead.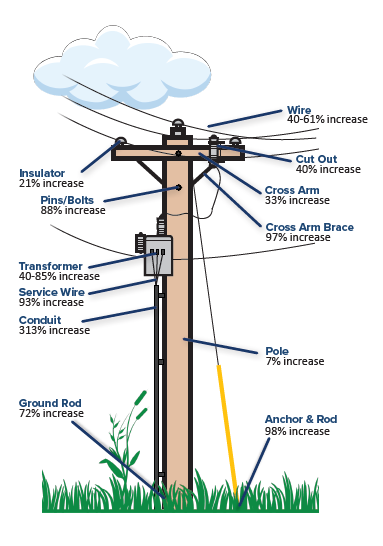 Transmission
Have you heard about or seen any of the new transmission projects American Electric Power (AEP) is building in our area? These projects are replacing 80+ year old lines. While new transmission lines will help PPEC's reliability and allow for quicker outage restoral, these new lines are very expensive. Because PPEC has to pay to use transmission from AEP, those costs are eventually passed along to members.
One recently completed transmission project ran from Haviland to Delphos, while another three are slated soon:
A loop from Continental to PPEC's Fort Brown and Roselm Substation, back to Ottoville

One outside of Payne running to Haviland

One from New Haven, Indiana, to PPEC's Tillman Substation
Transmission costs – or the cost to transmit power many miles from our plants to local substations – are surging with all this growth. PPEC's average transmission network demand charges, billed by grid-operators PJM, increased in 2022 to $501,363 (up 14.69%).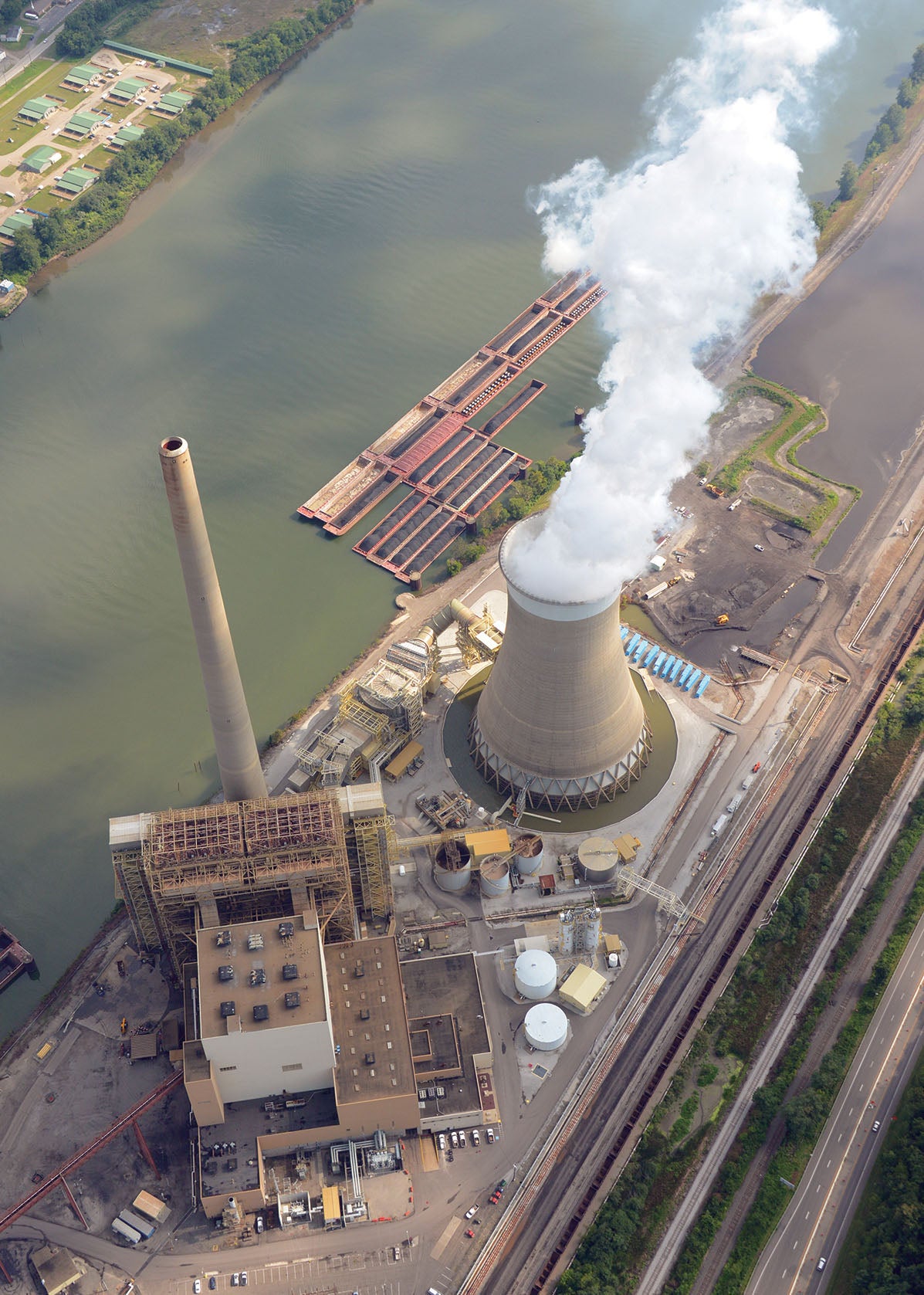 Wholesale Power Cost Adjustment
The cherry on top – the biggest expense PPEC has – is power cost, or the cost of electricity generated by our plants and delivered to your home. As commodity prices increase, the cost to generate electricity increases; this is where the wholesale power cost adjustment (WPCA) on your bill comes into play. This WPCA collects the increased cost PPEC must pay from our wholesale power supplier, Buckeye Power, who supplies all our electricity.
Overall, the Buckeye price of power has increased nearly 8% this year. The leading driver is transmission cost (mentioned above), which has increased almost 20% this year alone.
Back in 2015, PPEC's purchase cost per kilowatt-hour (kWh) was 0.0664. It's been creeping up steadily; Through June 2022, our purchase cost per KwH is up to 0.0792.
To learn more about each aspect of your electric bill, click here.
The bottom line
PPEC does our best to keep rates as steady and affordable as possible for members; our management team, CEO, and Board of Trustees works hard to keep controllable costs down – however, costs like the WPCA are out of our hands and must be recouped for the cooperative (a not-for-profit entity) to stay financially stable.
As conditions change, rest assured your cooperative will do its best to keep members informed of rising expenses. Despite current cost aches and pains, PPEC's vision looks ahead to a brighter future. When it comes to the best interest of our members, we keep a long-term strategic outlook.